It was a bit interesting for me today because I got to watch one of our local pitchers pound the crap out of Missouri, playing for the Oregon Ducks.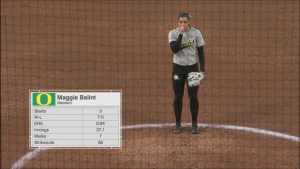 Pitching in PA, Hitting in NJ is strong
Maggie Balint is from Avon Grove Pennsylvania and played for the Delco Chaos, and appears to have a really good work ethic and should do very well for the Oregon Ducks. What's really funny about watching her success is that I watched her play in the PIAA state playoffs just down the road from me, about eight months ago. Although she did not win the state championship in 2016 ( I believe she only missed it by one run finishing as the runner-up), she did undoubtedly have a strong season and set some new records in Pennsylvania.
But I wasn't there to watch her though; I was there to watch my number 1 pitcher from Lancaster Pennsylvania, Sabrina Ryan. Sabrina also set some records in 2016 and won the playoff game that I watched the same day with the shout-out including, 16 strikeouts in that game. You can see from the screenshot from Maxpreps below that Sabrina and Maggie were number one and number two in strikeouts in Pennsylvania in 2016, and in that top 20 list, there's five really strong pitchers from a very tight radius of this area in eastern Pennsylvania. I've noticed time and time again that this area of Pennsylvania puts out some really good pitching that can endure some really tough conditions. Side note: New Jersey seems to put out some really good hitters, by the way 🙂